Here are some comments from an architect/builder, Sacrinos. (@dnahinga), in Kenya regarding the obstacles to building housing for the average Kenyan. Interesting throughout, especially the land use comments:
The pricing model in Kenya's Construction Sector/Real Estate is Colonial and Punitive.
It is akin to trophy pricing. All clients become as pricey as elephant tusks.
Let us reason together.
Short Thread 1/n.
After the Colonists grabbed Land and the Means, they quickly put up roadblocks to Home Ownership.
One being approvals for Self Expression
A house is the most express image of the Builder. Thus his native language
It was no longer possible to just build
2. Now if you have lost acres of communal and individual land, it is virtually impossible to Express your wealth as a fraction of the same Assets you lost.
You do not have the wherewithal.
So, it is a scorched earth where everyone must rebuild their wealth from scratch.
3. As the First Gatekeepers would have it, it's professional #misconduct to charge unprescribed fees.
A board has all powers to make laws, "for the scale of fees to be charged by architects and quantity surveyors for advice, services, and work done."
AQS Cap 525 (f)
Walk with me.
This is the formal housing cost structure in Kenyas #RealEstate.
So, the Colonists became the Levites in the sector. Basically taking a tithe from everyone that wishes to Build or be Adviced to Build.
What is the market effect? Facebook and Quacks* step in.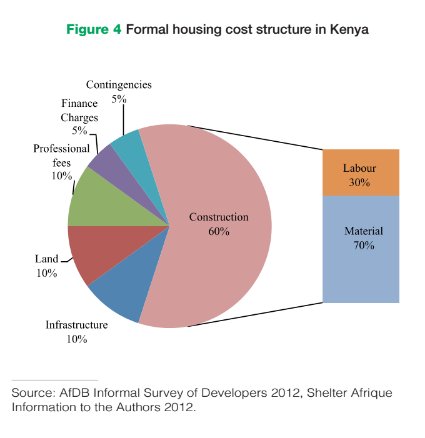 These powers need to be returned to the Free Market Mechanism.
This does not in any way encourage anti-competition but allows for competence, supply and demand to calibrate the lowest and highest prices people are willing to pay.
Intellectual Assets do not need Price Fixing.
Price Fixing of Intellectual Assets makes the Consultants unable to offer their services to the people below a Certain Wealth Threshold.
It also ensures and guarantees a thriving Black Market for Unprofessional Services.
It stifles growth in the Sector. We need to ReThink it
The current Top Down Board Sanctioned Pricing Model assumes all people who want to build have all the money.
All the Consultant has to do is to check a schedule and prescribe a % Fee.
It treats housing as a Noun and not a Verb.
Unfortunately, the next generation of Home Owners are:
1. Struggling with Savings.
2. Have practically little to no Assets to extract a %.
3. Can successfully build incrementally.
4. All the insider knowledge is NOT with the Gatekeepers. How will you stop people from building?
Reality Check.
Colonial Natives are now Digital Natives.
We innovate or die.
It is time to let the market mechanism allow for creation of an efficient, profitable way to serve the less affluent so we can stop looking forward to building towers only.
Set Architecture Free!
Dear Architect, Engineer, QS et al.,
Q. Have you lost clients because you tried to charge prescribed fees?
Dear Client. Have you lost a Professional because the prescribed fees was Impossible?
Let us see.🙏🏿🏡🏘🔨
If the 1933 Pricing Model was followed, Real Estate consultants would be controlling between 5% to 10% of all value created from their Consultancy Work.
Hypothetically, every 11nth Client would make the Consultant wealthier than any of the previous 10.
Project Value being K.
Originally tweeted by Sacrinos. (@dnahinga) on August 19, 2021.